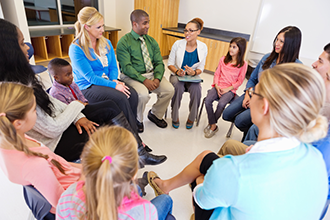 Ofsted will consider the progress of pupils who have SEND in relation to the progress of all pupils nationally with similar starting points and how their progress is improving.
Our Inclusion Support Service comprises a team of teachers with considerable SEND specialist knowledge, skills and further related qualifications, who are experienced classroom practitioners and leaders/managers of SEN provision in schools.  We are skilled at working with children and young people with a wide range of special educational needs. As practitioners we understand the challenges you face in supporting your young people and can offer you solutions.
We will work collaboratively with your school/academy to design a bespoke package specific to your needs. We support all ages of young people from 5 to 25. Our support and appropriate challenge will enable your school to develop outstanding SEND and inclusive practices that will help you to ensure that your children thrive and are fully supported.
Our service can be accessed on a consultancy basis or at different levels of subscription providing a number of days spread over three terms. You are provided with a single point of contact for your subscription who will scope out your school support package with you.
Specialist advice, professional development and practical solutions that will support you with the teaching of pupils with SEND
Support and training in Speech, Language and Communication needs, Physical Difficulties, Autism/Complex Communication needs including the Autism Education Trust 3 tier training programme and ICT SEN
Liaison with other professionals, families and schools to manage the successful transfer of pupils at transition points.
Attendance at SENCo network meetings at no additional charge
access to our secure web site for advice as well as telephone and email helplines
A preferential rate for attendance at courses and conferences organised by the team.
Our varied packages of support could include:
Training or INSET
Regular visits over a period of time
Surgeries
Half or full day visits.
Some successful packages delivered to schools in the past have included:
Supporting Working Memory
Children's working memory capacity significantly effects their ability to succeed in the classroom.  This support would look at how teachers can identify working memory deficits and make adjustments to their teaching that will transform children's progress. Development can be embedded through the use of learning walks, feedback sessions and discussion of individual children's needs.
Maximising the Impact of Teaching Assistants (TAs)
This support, based on the most recent research looks at how schools can make the best possible and cost effective use of TAs. We help you to analyse the barriers to effective working practices and challenge and support staff in making positive changes. We can provide a bank of ideas to trial in classrooms followed by review at a later date.
Dyslexia Friendly Classrooms
The concept of a Dyslexia Friendly Classroom where teaching aims to promote inclusion is well known. This support updates this concept in your school. Staff will be provided with a bank of dyslexia friendly ideas and enough theoretical knowledge to identify needs and start to innovate their own solutions.
Speech & Language Friendly Classrooms
Speech, Language and Communication Skills (SLCN) are the building blocks on which future learning and development is based. This support helps staff to develop good practice around SLCN, make teaching more accessible to pupils with SLCN and audit the environment to make it more communication friendly for all children. Further development could include an audit of whole school practice and work around specific interventions.
Understanding Sensory Needs
The way in which children integrate the environment around them is important to give access to learning. A number of children have significant sensitivities to their environment, including those with Autism Spectrum Disorders. This support will enable colleagues to carry out a sensory assessment, identify sensory needs and put in place an appropriate sensory diet for an individual pupil. Further development could include staff training to raise awareness about sensory needs and development of a sensory toolbox.
SEN Surgeries
This is a valuable opportunity for staff to discuss aspects of a child's learning and development alongside their well-being. Discussions could contribute to pupil progress meetings and can involve the SENCO, class teachers and TAs, looking at data, examples of work and outside agency involvement. The surgery also provides modelling and training for the SENCo and contributes to an overview of SEN within the school.
Staff will be given specific practical strategies to try in the classroom and the tools to develop their own. There will be a follow up session to measure impact and discuss next steps.
Attachment Disorders
This training provides staff with an understanding of the risk factors which may give rise to attachment disorders and explains why poor attachment results in a range of difficulties. The training also considers how children with this need present, as well as affording teaching and support staff a range of approaches, intended to support and manage pupils with attachment needs.
Anxiety
Training sessions on anxiety take more of a workshop approach. Consideration is given to the nature and importance of anxiety, how and why some children can become overly anxious and what this may mean for their capacity to learn and interact appropriately with peers. Activities are used which give staff an insight into how some children may become caught up in a spiral of anxiety and consider how anxious children can be managed and supported in the school environment.
Self Esteem
Self-esteem is central to the learning process. This training gives staff the opportunity to reflect on what we mean by self-esteem and why it is important to progress and the capacity to learn. The training reflects upon how children's self-esteem may be adversely affected and how corrosive that becomes to the development of a child. Staff are given the opportunity to consider what they do in school to nurture children's self-esteem, as well as being given ideas and approaches which they may wish to adopt and develop within their own context.
Mental health
The rising level of poor mental health in children and young people is a matter of current concern. This training examines the pressures on pupils which may result in mental health difficulties, while also considering a range of mental health needs which may be seen in school. Children with mental health needs tend to be very fragile and part of this training provides staff with advice as how best these pupils can be supported.
Behaviour surgery
A behaviour surgery (half a day) allows staff who teach pupils giving cause for concern the opportunity to discuss their needs and presentation. Through discussion, strategies, approaches and interventions are agreed which are used to support the pupil.  The SENCo usually attends these sessions as it gives them the opportunity to both contribute to the discussion and be appraised of ways of working which may be of benefit in working with others who may present in a similar way, so extending the 'reach' of advice.
Behaviour management
General behaviour management training considers how and why children's behaviour can be adversely affected. The sessions gives staff the opportunity to reflect upon their own practice, both individually and in terms of the wider context of their particular school. This process of reflection is done through both trainer-lead input and activities.
An Introduction to Autism Spectrum Disorders
This training will give an overview of autism spectrum disorders including recognising traits, building evidence towards diagnosis and strategies to try in the classroom. During the session we look at ways to help pupils with autism access learning, build social skills and reduce anxiety. There will also be an opportunity to discuss individual children as part of the session. Tools and resources to support teachers in the classroom will be shared to support the development of good practice.
Individual support and advice for a pupil with ASD
Bespoke training for staff working with a pupil with an ASD. The session will include an observation, feedback to staff and tailored strategies and advice for an individual pupil. Development of the session could include support with setting up a social skills intervention, using scaling to analyse anxiety and enable a low arousal environment or a sensory assessment. Following the session, staff involved will have developed knowledge and confidence and also have new skills that will facilitate future problem solving.
Our team of highly skilled and qualified specialist teachers have substantial leadership and management experience.
We are experienced teachers and managers of SEN provision.
We have local and national SEN perspectives that enable us to provide up to date advice and share best practice.
Our team are skilled negotiators and diplomatic in resolving sensitive issues and managing challenging meetings.
We are effective communicators with young people, parents, staff and other professionals.
We deliver innovative and interactive training tailored to your needs.
You can access information and updates in a variety of ways to best suit your school.
We have strong links and partnerships with other services enabling us to more effectively support you.
We have a proven track record in promoting inclusion of pupils.
We can empower schools to help children to thrive and learn.
We take a robust and responsive approach underpinned by strategic thinking.
We are passionate about securing the right outcomes for young people.
We are absolutely committed to meeting your school's needs.
Purchasing this service will help you to:
meet the needs of your learners more effectively and help every child to achieve their potential
support your SENCo with managing children with complex needs
improve pupil engagement and access to learning
increase pupil inclusion, attendance and attainment
empower and improve confidence of teaching and learning staff
fulfill your statutory roles and responsibilities effectively
improve staff knowledge and ensure practice is up to date
induct new SENCos into their role
support experienced SENCos to develop their specialist knowledge
develop efficient and effective processes
address Ofsted expectations linked to leadership and management, personal development and welfare and outcomes for pupils.
Inclusion Support Service "is a service that we value, more than just an insurance, but one we use proactively to support the professional development of all staff with meeting the needs of pupils with SEND. Recent training was of high quality and enabled all school staff to be informed of good SEN practice. This has led to consistent practice across the school."
The wide range of expertise ISS has to offer has been invaluable to us this year. When we have needed suggestions and recommendations for ways to support our children, the advice and guidance given has helped us to change the way we approach our classroom methods and has led to excellent outcomes, particularly for our lower ability and vulnerable children.