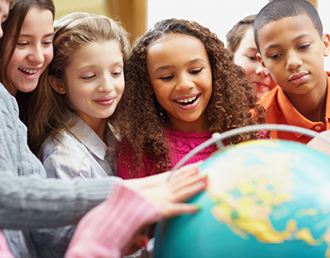 Do you have bilingual learners, asylum refugees or traveller pupils in your school?
Research tells us that providing opportunities for learners to use their first language for learning supports access to the curriculum as well as the development of English as an additional language. Historically, Gypsy/Roma pupils have had the poorest outcomes of any ethnic group in England in terms of attainment, attendance and exclusions.
By working alongside you, our specialist knowledge can help your school to improve educational outcomes for children and young people from black and minority ethnic and traveller heritages, as well as those learning English as an additional language. Our support will help you prepare them for life in the diverse society which is modern Britain. We can support with promoting tolerance and addressing extremism as well as supporting you in meeting your statutory responsibilities as stated in the 2010 Equalities Act.
Bilingual support for EAL children for induction, transition and attainment
Specialist advice and training for schools and settings to meet the needs of ethnic minority pupils by promoting successful inclusion and raising achievement
Support to schools and early years settings to establish positive relationships with their parents and communities
Equality policy guidance from an EMTAS perspective
Support with making effective use of additional funding for pupils new to English
Bespoke packages of support to meet specific school requirements.
We are a team of specialist teachers each with more than twenty years of classroom experience.
Our expertise is rooted in our diverse backgrounds, training and considerable school and classroom experience.
We are experienced in working across all phases and have extensive knowledge of working with BME, EAL and GRT communities.
We have links with relevant local and national professional organisations.
We deliver a wide range of support in creative and flexible ways that is responsive to the needs of schools.
Our service recognises the importance of detailed data analysis for discrete ethnic groups to inform interventions.
The service has a strong reputation for delivering quality support and training which is highly valued by schools and settings.
We can work directly with teaching and non-teaching staff OR directly with pupils and parents.
We can work with you to support your work in relation to inclusion, diversity, Community Cohesion and the requirements of the Equality Act 2010.
We are able to support your leadership team in preparing for Ofsted inspections with regard to equality and diversity, Community Cohesion and closing the gap.
We can work with you in assessing the needs of individual BME/GRT pupils and facilitate multi-agency/integrated working for complex cases.
Increased staff confidence in challenging racism and stereotypes.
Increased staff confidence in promoting cultural and linguistic diversity.
Improved sense of belonging and well-being of all pupils.
Raised achievement of BME, EAL and GRT pupils.
Enjoyment of learning through a culturally inclusive curriculum.
Parents more able to effectively support their children.
School's policies are in place for BME, EAL and GRT pupils.
School reflects its own, local and national diversity.
Support received from EMTAS has been highly responsive when we have needed it! The varied strategies provided have impacted on pupil induction, immediate access to learning and also longer term developmental provision at a whole school level. I found the training provider to be knowledgeable and extremely engaging, both when working individually with staff and in group training sessions.
We have had excellent support from EMTAS over the past few years. They have been able to tailor their support to suit our specific needs, ranging from a workshop for parents with EAL on the British School System to a Whole School Cultures day, promoting individual difference and equality. Staff training has been of a high standard and has had an impact on improving our provision.
We have found the EMTAS service invaluable in supporting us with improving our provisions for EAL and BME over the years. We have been able to refine our systems and make them more effective which has allowed us to tailor what we offer in the form of induction to meet the needs of every child that walks through our doors whether newly arrived to the country or at an early stage of language acquisition.

We have also benefited from the expertise of EMTAS staff during pupil conferencing, action planning and curriculum development. This support has led to key school improvement and as a result our 'good' inspection outcome.