Information Technology & Information Management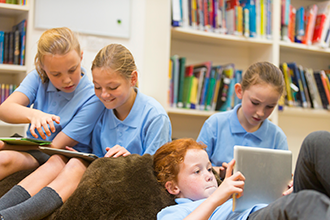 Integra Schools' IT team specialises in supporting technology to enhance learning and provides services to support all types of educational establishments including – LA schools, academies, children's centres and nurseries. As a team, our combined experience and broad skill range allows us to understand your needs, sort out your present and develop your future.
School ICT networks have become increasingly complex to manage and supporting them on an 'ad-hoc' basis is no longer sustainable.  Our services are designed to allow establishments to focus on the use of ICT to support teaching and learning, by providing both remote and onsite support. Our managed IT service provides on-site technical support to meet your needs with access to the service desk and remote support all year round, even during holiday periods. Our flexible and pro-active approach will ensure our provision is tailored to your school's needs. We take pride in offering an IT Support Service package that will provide the level of support your school requires to maintain and develop your IT Infrastructure.
Our dedicated Capita Accredited SIMS team work with you to ensure your valuable management information fully supports your priorities. We provide helpdesk support, training, on-line guidance and consultancy across all areas of SIMS and a range of added-value services.
In addition, we offer a wide range of services to maximise the impact of technology in your school from hardware maintenance to bespoke consultancy and project support.
Also see our online services page for additional services we provide.
Integra Schools have designed an online platform to meet your leadership requirements. The governor secure areas have online conversation and planning tools as well as document storage and can be accessed on any device via [...]
General Data Protection Regulations are coming! Are you ready? The General Data Protection Regulation (GDPR) comes into force on 25 May 2018 introducing new rules regarding Data Protection of personal data and fines of [...]